Sexy Lingerie is a sexy piece of clothing that can leave any woman feeling beautiful. Lingerie can be used in a numerous of way, and can be used for some occasions and also it can be worn to enhance bedroom activity. Here's a secret for all the women out there (if they haven't figured it out already): all men are visual creatures. Just like there are verbal learners and visual learners, all the men out there sometimes need you to paint them a picture in order to better understand your feeling and desire. They are mostly stimulated by what they see which is the reason why we must make them see what we want. So we have to paint them a picture, and we can do so deliciously with sexy lingerie.
            How many men can resist a woman in any type of sexy lingerie? The answer is "none". There is something about lace, ribbons, feathers, leather, or not-so-subtle sheer material that drives a man wild. And honestly, no one can blame them because women always look fabulous in sexy lingerie. Regardless of how you feel about your body, sexy lingerie is the best way to begin loving yourself again (and even get someone loving you in the process). The hidden truth is that women love sexy lingerie just as much as men. Below are 5 varieties of sexy lingerie that cannot be resisted by your partner;
Baby doll Lingerie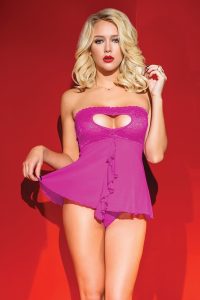 There's something positively alluring about an innocent-yet-sexy look, and baby doll dresses help you achieve it with ease. A plunging bustier can make way for a flowing dress that is as long or as short as you like. When paired with cute pigtails and a come-hither look, it's one getup that few men can hope to resist. The best part is, baby doll lingerie is comfortable and easy to get on and off – you never feel like you've squeezed into something that's too small, and you never feel pinched or uncomfortable.
Find it >> HERE
All Babydolls >> HERE
Chemises & Mini Dresses
              In contrast to bustier and camisoles, chemises and mini dresses are loose and are rather similar to the baby doll. However, chemises aren't always sleeveless. It is said that the look of the shirts nowadays originated from the early designs of chemises.
Stockings – Pantyhose – Garters

             These aren't just one piece of sexy lingerie, but these items combined the most iconic set of sexy lingerie that it's possible to wear. If you haven't tried it, then you really must just once in your life! It may not be the most comfy outfit, but if you choose reasonably high quality material then it needn't be too uncomfortable. The upside is that men absolutely love this look and you are at once both covered and showing lots of skin which will excite him no end!
Find it >> HERE
All Stockings >> HERE
Teddies
              They were previously known as cami-knickers, which is a combination of the words camisole and knickers. Teddies are tight one-piece lingerie meant to be worn under dresses. Different types of teddies include bareback, body briefer, fashion top, sleep, teddies', and traditional sexy lingerie's. Again, teddies often aren't super revealing, so they are great for the self-conscious ones, but where the front is fairly covered, they are often backless, so there's plenty for men to appreciate. As ever, men love black, red and white as these sets of colors triggers their sensual circuit.
Overall
              So, what have we learned today? First, men are visual creatures and need to see in order to believe. Second, sexy lingerie is hands down the best way to convey to your man exactly what you want and need. After that, what more could you ask for.