Though some singles think that anal sex is not proper. That it's a bit irritating and unsafe but the truth is that anal sex is interesting for couples, both men and women. These days, couples loved exploring extreme acts of sexual satisfaction. Men want to penetrate from the rear – anus because it is tighter than a vagina. Women also enjoy rear penetration because the nerve ending around the anus are very sensitive and stimulating. Anal Sex Toys for Couples are very popular  in nowadays.
              Similarly, some men enjoy being penetrated from behind, not just only gay men but married men as well in order to stimulate their prostate gland. The prostate gland is stimulated during posterior play for a man. This can be highly enjoyable, also his anal nerve endings are just as sensitive as that of woman. Having anal sex for the first time can be somewhat painful which is why the use of anal sex toys can be very helpful. Anal Sex Toys for Couples helps to stretch the anal muscle (sphincter muscles) in order to accommodate individual partner without pain. Anal toys can be used by people of all genders and sexual desires.
             Therefore selecting a particular type of anal toy that suit you as a couple will spice up your sexual ecstasy with no hassle or pain. If you're new to anal pleasure, you may want to consider looking into an "anal trainer kit". Anal trainer kits include multiple types of anal toys which allows a newbie experience different types of pleasure with ease. Some Anal trainer kits also include similar toys of various diameters; this will allow you to slowly increase the size of toys you're comfortable playing with. Below are the list of top 5 anal sex toys suitable for couples;
Anal Beads
             Anal beads are a great anal sex toy for couples to explore anal fantasies especially couples that are new to anal sex. Also, anal beads consists of a string of smooth plastic, metal or glass beads, which gradually get bigger towards the base. A popular method of using beads is to insert them during sex or masturbation and remove at the point of orgasm for a more intense climax. Lots of people enjoy the sensation of the body readjusting with each new insertion. The most common way to use anal beads is to lubricate with a water based anal lube and insert the beads one at a time into the anus. Pulling the anal beads out in the moments just before orgasm will produce greater intensity.
Prostate Massagers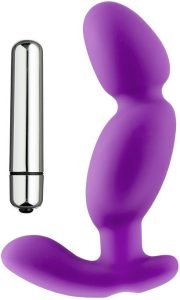 Prostate (P-spot) is often described as the male G-spot, prostate is a gland inside the anal canal. When stimulated, it can make sexual urge more pleasurable and even lead to an intense hands-free orgasm. Prostate massagers are structurally tailored to stimulate the gland. They are the perfect way to safely and confidently explore your P-spot and paying attention to this area can result in longer-lasting and more ecstatic orgasms.
Prostate Massagers >> HERE
Related Article:: Buy sex toys online in discrete way?
Butt Plugs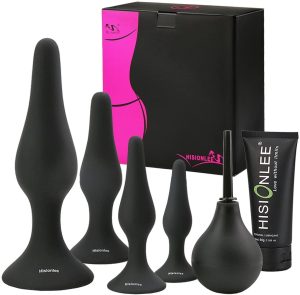 Butt Plugs or Anal Plugs are great Anal Toys for Couples to introduce anal play into their sex life. These anal sex toys come in a variety of sizes to accommodate any anal experience level, be it beginner or expert. Anal plugs are major constituents of anal trainer kit. Small butt plugs is suitable for couples who have never tried anal fantasy. Some butt plugs are inflatable while some butt plugs have vibrating bullet built in for added anal arousal. When using anal toys, it is advisable to always use a quality anal lube in order to prevent tissue tear during the process.
HUGE VARIETY >> Butt Plugs
Anal Dildos
               Dildos are devices designed in form of an erected dick to provide anal or vaginal stimulation. Anal dildos are dildos designed specifically for anal use. Some are smaller than traditional dildos and have a broadened base to prevent the dildo from going all the way in, making for optimal comfort and safety. Dildo's fantasy can be enjoyed by both couples and unlike butt plugs, anal dildos are used for in and out penetration and some are designed specifically for prostate stimulation. Anal dildos come in a variety of materials, including glass, silicone and jelly. One important thing to remember when using anal dildos is anal lube.
Strap on and Harnesses
             Couples: male or female, gay or straight, lesbian or homo can always enjoy strap-on sex. Strap-on are a comfortable to wear and ultra-sexy harness which allows hands-free dildo fun. Strap-on is a form of harness in which a dildo is inserted. A worn around the waist to provide a hands-free dildo fantasy. Also, strap-on come in a variety of materials. Some are inform of leather for the skin-tight, non-slip fit and edgy aesthetic. Others made from cotton or polyester that are easy to care for and machine-washable.
Overall
              The most important thing to consider whether new or experienced in the use of anal toys. That the anus does not produce any natural lubrication. It is imperative that an anal lubricant is used to make penetration. A much more pleasant and easier experience preferably water based lube.