Buying Butt Plugs
             A butt plug is one glorious sex toy that anyone can enjoy regardless of gender, genitalia, or sexual orientation. All you need to use a but plug is anus and not just an anus; it should be one you cherish so much. However, I bet not everyone knows what a butt plug is. Well, it is not among the strangest things on earth, but it is alien to some people. A butt plug is anal toys that plug your butt, quite literally. These products come in different sizes, designs, and shapes. Most importantly, butt plugs are found in plenty in online and physical shops. A regular butt plug has the shape of a teardrop, but the base is wide enough to stretch every single muscle in your butt. However, the wide base's main purpose is to prevent the toy from being sucked too deep.
            You're missing out on a lot of fun if you haven't yet used a butt plug, especially if you have some insatiable appetite for anal sex. Why would one choose a butt plug among all the other fancy anal toys you can think of? Well, it is because a butt plug is everything pleasure. You may not know it, but your butt hole has numerous nerve endings that get stimulated by a plug. Additionally, the anus is connected to the prostate, which is the area that mainly facilitates orgasm in men. Think about it this way; you can achieve orgasm all by yourself using a butt plug.
Related Article:: Top 3 Best Anal Sex Positions for her Pleasure
             Let us look at some of the best butt plugs to gift your friend this year. Trust me; they will have you to thank for giving them infinite hours of pleasure.
Triple Ripple Butt Plug – Large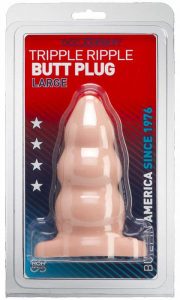 This 6-inch large triple ripple butt plug allows you to enjoy anal sex you have never done before. If your friend or partner has an insatiable desire to explore their anal adventure, there is no better plug than this. The plug works by stretching the girth of your anus to its extreme limits without feeling painful or uncomfortable. Additionally, the flat base gives enough support in case you prefer sitting on it. You can sit on the plug with your legs spread out or closed together and won't risk toppling over. To make it as tough as it should be, the plug is designed to have a firm exterior shell and a soft inner core.
>> Tripple Ripple – Buy Now <<
             The plug's unique shape also contributes to insane sensation during insertion and removal. Its top is petite; then, it gradually widens towards the bottom. Additionally, the wide base is quite safe and serves the same purpose as an O-ring type harness. About its build, Triple Ripple Butt Plug is latex-free, made with thermoplastic rubber, and has three stages of anal bliss. Finally, this massive plug is 5 to 6 inches long and 2.5 inches wide. That makes it an ideal gift for your naughty friend who finds great pleasure in anal stimulation.
Platinum Silicone P Plug Charcoal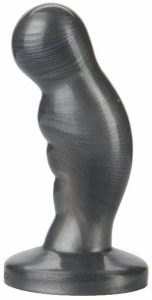 Platinum premium silicone plug is one of the best prostate stimulators you can find. The plug is beautifully crafted to give you the best anal experience without the likelihood of nasty injuries. Most importantly, the toy is made with top-grade silicone that is both safe and tough enough to sustain any weight. Platinum silicone P plug's curved body, wide base, and massive girth make it comfortable wearability and versatile play. In addition to being hypoallergenic, the plug is also phthalate-free and easy to clean. Although tough, the silicone material from which the plug is made makes it incredibly flexible. Hence you can vary the angle of insertion as you please.
>> P Plug Charcoal – Buy Now <<
            The plug's main features include firm and flexible, nonporous, durable, odor-free, among others.  Most importantly, this butt plug comes with Sil-A-Gel formula antibacterial, which is also antitoxin and latex-free. However, a water-based personal lubricant is recommended if you find the friction too much to handle. Finally, the plug is made by a recognized American toy company that has consistently produced quality sex toys since 1976. Therefore, you're guaranteed a safe and unique product to satisfy your sexual needs and those of your friends.
Athena Small Gold Plug W/Short Pink Tail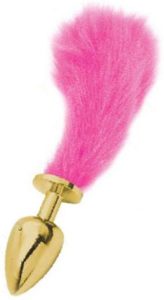 Going for as low as $26.00, this pinky butt plug may not be as thick as you want, but it's one of the best prostate stimulators in the market. The pink tail has a tail length of 4.75 inches and a 2.25 inches inserting length. Its design is such that you only need to position yourself well and insert at the right angle. The rest is left to you to maneuver through your anus by guiding it to every muscle and spot. A tapered end is the most notable feature you can get on this plug. Its main purpose is to make insertion and removal easy. Additionally, the tail is made of faux fur, which helps you have a firm grip as you work the plug up your anus.
>> Athena Gold Plug – Buy Now <<
              Athena Pink Tail Butt Plug is an ideal toy for temperature play. That is made possible by the silicone material that gets neither too hot nor too cold, just enough temperature for you. Most importantly, the product is silicone lube compatible in case the going gets a bit rough. The plug's other notable features include non-porous, seamless, and steel chrome plated. Finally, the plug comes with a 5-year satisfaction guarantee.
Cock & Ball Anal Teaser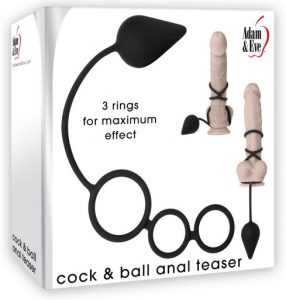 Another masterpiece from Adam and Eve Toys, Cock & Ball Anal Teaser, gives you three thrilling sensations, all at the same time. The toy has an extraordinary style that might even freak you out at first. It is tapered and ergonomic to ensure smooth insertion and removal. The plug is joined by three loops with a generous leash, thus enabling you to stretch every single muscle in your butt. Additionally, it is made from smooth silicone, making it comfortable even when you insert the full length. Triple pleasure is derived from two snug penis rings and a tantalizing ring-shaped ball. Apart from giving you extra pleasure, the ring also serves as a safety retrieval ring.
>> Cock & Ball – Buy Now <<
              Like every other Adam and Eve toy, Cock & Ball comes with a cleaner. Once you're done cleaning, you can rinse with warm water and store it safely. Finally, the plug's dimensions are just the right size for your butt. The toy measures 2.42 inches by 1.5 inches, the ball strap 1.8 inches, and cock ring 1.5 inches. You don't have to worry about anybody harm by this toy as it is entirely made of safe silicon materially.
Whisperz Voice Vibrating Butt Plug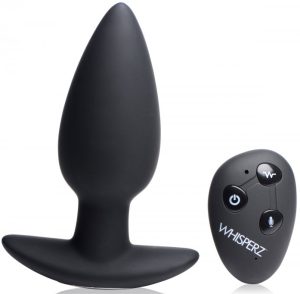 XR Brands has designed this butt plug to give you the ultimate anal experience. The plug is unique in every aspect, making it the perfect `gift for your naughty friend. First, the toy comes with remote control capabilities that help you activate your voice when using the plug. Whisper sweet words into your partner's ears with the help of the voice feature. Secondly, Whisperz is made with premium materials, which include safe silicone. It is also waterproof, rechargeable, and easy to clean. The embedded microphone works with your voice and loud music as well.  Place the remote next to some speaker and play music as you pleasure your partner's booty for as long as necessary. Most importantly, the toy comes with up to 10 modes of vibration to buzz your butt.
>> Whisperz Vibrating Butt Plug – Buy Now <<
               Whisperz is compatible with water-based lubricants because it is waterproof. However, it would help if you did not use it with silicone lubes because they may cause wear and tear, reducing the toy's lifespan. This toy has an overall length of 5.1 inches, 4.2 inches insertable length, and 1.7 inches diameter. Make haste and grab this stylish butt plug today and make the day for your buddy.
BFilled Classic Denim
      BFilled Classic Denim is a revolutionary butt plug manufactured by BWash. If you're looking to get your butt tickled pink, this is the toy to get the job done. This petite yet powerful plug is tapered with a flared base for every anal sex enthusiast out there. It doesn't matter if you're a beginner or seasoned pro, BFilled will give you limitless fun and pleasure. The product is thoughtfully designed with premium material, non-porous, body-safe polyurethane PU, then coated with ABS plastic.
>> BFilled Classic – Buy Now <<
            Cleaning BFilled is a breeze, thus making it always ready for your next round. What I like most about this toy is that it can be used in public and in private. All you need is to do is find a quiet spot, away from prying eyes, and get to work. AAA battery powers the butt plug. It has a vibrator length of 4 inches and a girth of 1.45 inches.
Conclusion
              In conclusion, butt plugs are increasingly becoming popular among adults as they give unmatched anal stimulation. Many people don't know that using butt plugs does not necessarily mean you agree to anal sex. Whether you're straight or not, a butt plug will always come in handy if you want to supplement your sexual adventure. I know many people would appreciate a gift like this, but it has to be someone you know loves them. I don't think there is anyone else who deserves it better than your naughty friend. Get them one of these butt plugs today, and they'll be glad they met you.