Women have long set certain standards for men when it comes to hitting the G-Spot. Consequently, men have been going to every length to protect their image. Not one of them wants to be considered a failure who doesn't hit the G-Spot. Sadly, this little spot has been overly elusive and hard to find. Interestingly, some men have mastered it and will hit it seconds after getting in. These are the kind of men that will steal your wife in the blink of an eye. If you know the G-Spot is not your calling and have never found your wife's, consider getting her some toy.
           Toys have now made it easier for women to hit the G-Spot by themselves without necessarily needing the help of a man. However, it is more thrilling if someone else uses the toy on you to find the hidden treasure in your honeypot. Our toys have been designed to help you explore every room in your honeypot with astounding accuracy. No spot goes untouched with these toys, specifically the G-Spot. We have identified for you 5 toys with unmatched accuracy and speed when it comes to hitting the G-Spot.
Related Article:: Trendy Adult Toys to buy this Winter 2021
Fantasy for Her Ultimate Tongue-Gasm

            If you are looking to scream your lungs out from arousal, look no more. This revolutionary tongue-like G-Spot master has been carefully designed by Pipedream products hits it incredibly well and fast. Tighten the knob on your door and spread it like a pro. Bring it and tap slowly on your clitoris. Rub it for a while before thrusting inside. Close your legs and allow the temperature of your pussy and the toy to balance. Start thrusting it in and out with measured speed and intensity.
Ultimate Tongue-Gasm >> Buy IT <<
            Increase the pace until you feel the hot gush wetting your inner thighs. As you rub it on top of your vagina, twist and press it on the rough spot just behind the clitoris. How does that feel? It's like your energy is being drawn out and you feel like collapsing, but you want the feeling to consume every bit of you. It is kind of thrilling and you don't want to stop. When you finally collapse to your side trying to catch your breath is when you will realize that you just hit it. You have conquered the G-Spot faster than you expected. I'm sure you can't wait to use your new G-Spot buddy again.
Hiky Black Vibrator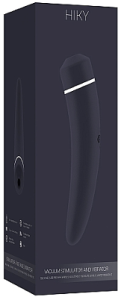 It is a vacuum stimulator that does not only suck your clit but also helps stimulate the G-Spot. The Hiky is unique due to its overwhelming tenderness that will make you cum before you know it. I don't how true it is but some women are considered stubborn when it comes to arousal. Well, not with this nipple and clit vibrator. The best part is that it comes with complete instructions to successfully guide you through the process of stimulation and arousal.
Hinky Black Vibrator >> Buy IT <<
             It is soft with a silicon mouth to go as deep as it needs to go until it finds the G-Spot. The Hiky is considered to be 10 vibrators in one. That means ten unique options to help you arrive at the promised land with incredible speed. The 10-speed vibration point at the penetration end helps get you an astonishing feel around the vagina walls. Additionally, this product is water-resistant and phthalate free to ensure comfort and safety. Get yourself one today and notice how easy it is to find the G-Spot.
Amore Rabbit Tickler Laven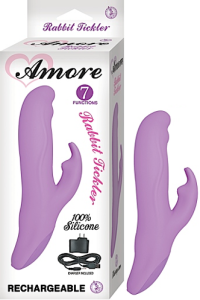 No rabbit vibrator beats this one when it comes to G-Spot stimulation. Amore comes with 7 functions that are unique and which cumulatively work to give you the best experience. This rabbit vibrator is not only effective in hitting the G-Spot faster but it is also very safe. It is made of silicone and is rechargeable.
Rabbit Tickler Laven >> Buy IT << 
           The product is also waterproof so you won't have to worry about it socking up. Amore rabbit's other notable features include a phthalate-free material shaft, ABS plastic base, clitoris simulator silicon, among others. It is the ultimate G-Spot simulator for all sizes of women. Gift yourself this amazing sex companion to experience multiple overwhelming orgasms.
Enchanted Thrill Me Set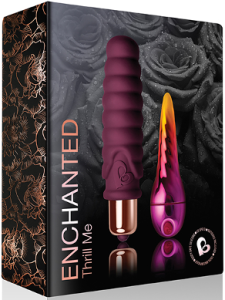 This self-pleasuring masterpiece has been made by Rocks Off. If you are looking to unleash the power of Unihorn, this Enchanted Thrill Me is your ideal toy. The product has a unique way of making you live the ultimate erotic life with back to back orgasms. Asked why they came up with such a complex toy, the manufacturer cited the woman's complex anatomy as the major motivating factor. We couldn't agree more and had to get you this vibrator that seems a lot more of your vagina more than yourself. Don't be misled to think this G-Spot is difficult to use.
Thrill Me Set >> Buy IT <<
              On the contrary, it is quite easy to handle. Furthermore, it comes with a complete guide to help you hit the spot just right. This is a newfound secret for women who have tried it. All you need to do is lock yourself up somewhere for a couple of minutes which is enough to take you to the moon and back. The vibrator comes with 10 intense simulation settings to make sure you hit the G-Spot either way.
Butterfly Kiss Original Purple
             It is the ultimate G-Spot arousal toy for her this festive season. The Butterfly Kiss is overwhelmingly sensual and suitable for quick and intensive G-Spot simulation. Its main features are a powerful 3-speed arouser, waterproof, 7-inch length, and 3.5 inches insertable length. Additionally, it comes with a touch push button that makes it easy to use. The Butterfly Kiss G-Spot simulator is one of the safest feminine sex toys you can find in the market. The vibrator has been made with non-toxic phthalate-free materials.
Butterfly Kiss Purple >> Buy IT <<
             Additionally, it is unscented to enable you to feel the thrilling vagina smell as you work your way to the G-Spot. The only thing you should be careful about is the cleaning because it needs cleaning before and after use. Cleaning involves spraying a small amount of toy cleaner and then rinse with clean warm water. Make sure to remove the batteries first before cleaning, this applies to every other battery-operated sex toy. The product comes in bulk and is without a package. That means you should be careful where you keep it, especially if there are kids around.
Conclusion
             The thought of hitting the G-Spot is enough to make you want to have sex right now. Sex that does not involve hitting the G-spot is not worth it. Every woman deserves a mind-blowing orgasm resulting from G-Spot simulation because they don't get it often. With toys such as the ones we have highlighted here, the G-Spot is now within reach for every woman out there. Most importantly, the toys make it easy to hit it fast and with overwhelming intensity. Scroll through our store and grab yourself one or two toys to enable you to have a fulfilling sexual experience.