Anal sex is no longer a taboo subject, and we can now talk about it all day long, every day. Men and women alike welcome anal sex as a delightful addition to their sexual repertoire. Anal sex may seem intimidating at first. But once you experience it, there is no going back. The anus is such a great equalizer, and gay men won't hesitate to explore every aspect of anal sex. The best thing about it is that you no longer need another person to guarantee you a mind-blowing anal experience. You can use various anal toys to pleasure yourself or your partner, whichever works for you.
               MoyToys has prepared a buying guide for you on massive anal toys to give you maximum pleasure this year. Undoubtedly, it is quite thrilling to have your ass get stretched by a huge toy. With the kind of toys we are just about to bring to you, you will be able to explore every pleasure your anus has to offer. These anal toys are big enough to fill your body with goosebumps as it slides slowly down your ass.
Related Article:: Top 3 Best Anal Sex Positions for her Pleasure
Avant Pride P4 Power Play Butt Plug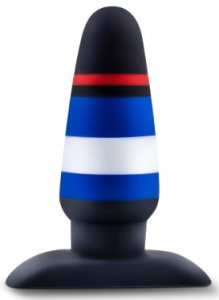 First on our list is this unique artisan anal toy that is both beautiful and stylish. Avant has been carefully crafted with your anal needs in mind. The toy comes with a deep suction cup base to offer you adequate penetration and oodles of pleasure. Additionally, the toys come with harness compatibility for everyone. It is also safe for the body, so you don't have to worry about nasty itching or reaction after using it. The makers have used pure platinum cured silicone to construct it. If the toy doesn't warm with your body minutes after inserting it, you can always run under warm water.
>> Buy Now <<
            Moreover, it is non-porous and easy to clean by boiling or using any other cleaning method. Avant Pride is the most preferred anal toy because it is sexy, stylish, and modern. The end is tapered for easy insertion, without mentioning that it is very stable if you choose to sit on it. There are no fragrances, latex, or phthalates present in the toy, further adding to its safety. When it comes to insertion length, this toy has a total length of 4.75 inches and a width of 1.5 inches, but you can only insert a distance of up to 4.7 inches.
Ignite Butt Plug Black Extra Large
            The T-base of this super sizeable anal toy makes solo play a breeze. It is one of the most pleasing anal sex products by Ni Novelties. Ignite Butt Plug is easy and safe to use and remove due to its T-base. You can use it solo or with a partner in a strap to harness. It is recommended that you only use the stretchy style of o-rings; the metal ones may damage the skin or cause a reaction. The material used to make the toy is phthalate-free and is non-toxic. It is 5.5 inches long and 2.7 inches in diameter.
>> Buy Now <<
          With a toy of this size, you are sure to stretch your ass to the limit and draw oodles of pleasure from the experience. This toy's most striking feature is its classic shape, small and smooth point that makes insertion relatively easy. You don't have to worry about friction or other forms of discomfort while using it. For a better experience, make sure to clean it before and after use. It is recommended that you use a water-based lubricant with the toy.
Adam & Eve Cobalt Glass Dildo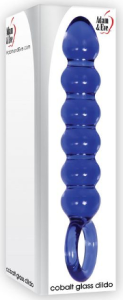 Adam & Eve stimulating glass dildo is beautiful and comes with six beads to guarantee you maximum anal pleasure. You have a chance to choose between warm or cold glass, whichever gives a thrilling anal sex experience. Although the entire dildo is 7.5 inches in length, you can insert it safely up to 6 inches. The circumference of 1.32 inches is big enough to give you a good stretch. It is made from a solid borosilicate glass that is tampered for ease of penetration.
>> Buy Now <<
 Additionally, the toy comes with a retrieval loop at the base to safely and effortlessly remove it when you are done. This fantastic toy is non-porous and easy to clean. Make sure to clean it thoroughly before and after use.
Colt Expandable Butt Plug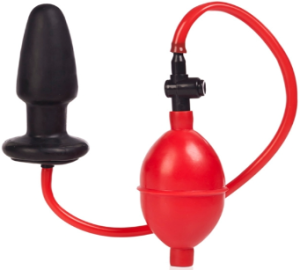 Colt Expandable Butt Plug is a revolutionary sex toy that has been designed to meet all your sexual needs. The toy is made from rubber and latex and comes with an easy purge valve. It is 5 inches in height and 1.5 inches wide. When inflated, the plug measures 4 inches wide.
>> Buy Now <<
            Additionally, it comes with its lube to help you deal with friction. Most importantly, the plug is non-toxic as it is made with a phthalate-free material. It has a bulk weight of 6.8 ounces, and this makes it quite convenient to carry around. You can use it wherever you like, in the office, in the car, or at home. Made in the USA, most colt expandable butt plugs come without a retail package.
Kink Wet Works Explore Platinum Premium Silicone Plug
              Kink Wet Works is 4.5 inches long and is made from silicone. The toy has been designed to give you an obstructed view of your butt as you use it. It is well textured with a dual finish exterior to ensure your comfort. Once it slides in, the tunnel plug holds firm and keeps the ass sufficiently open for action. Additionally, its heavy-duty flare bottom is designed to ensure stability as you work it up with your fingers or other toys.
>> Buy Now <<
        Kink Wet Work's ribbed stem adds to the pleasure by stimulating your butt walls with every movement. The base is hollow in case you want to play with liquids. Insert your favorite liquid or toy through the hollow center and wait to be taken to another world. This plug is also safe to use; it is made from non-toxic phthalate-free material. With a staggering 8.5 inches' circumference, the plug is the best fetish item you can find for anal sex. Most importantly, it is easy to use, even for starters.
Beaded Anal Plug Clear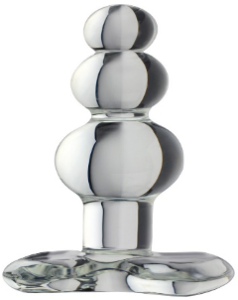 This artist-designed borosilicate glass anal bead is both safe and non-porous. It is compatible with virtually any lubricant. Additionally, the toy is easy to use and clean. You can boil or chilled, whichever you see fit. Beaded Anal Plug is harness compatible with most O-ring straps. If you order this toy, it will come packed in a sturdy and stylish box you will fall in love with instantly.
>> Buy Now <<
            The toy' makers have combined beautiful form and functionality to develop an excellent, irresistible adult product. Although it is a non-vibrating anal toy, its sheer size in terms of length and width is enough to give you a breath-taking anal sex experience. Lastly, the tempered glass from which the toy is tolerant of extreme temperatures and pressure.
Firefly Pleasure Kit Blue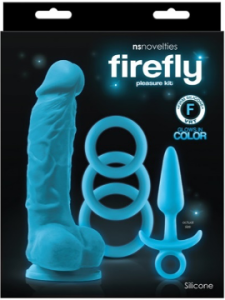 Firefly Kit Blue is a revolutionary anal sex toy designed by NS Novelties. These glowing and shiny toys may be all you need to start and end the year on a high note. The kit features a collection of massive anal toys. A 5-inch realistically molded dildo is one of the most popular toys in the kit. It also has three sizes of Halo Soft and stretchy cock rings to enhance your sexual experience with your partner. Additionally, the kit comes with a prince pleasuring plug with a retrieval ring. Every item in the package is made with silicon that is both silky and smooth.
>> Buy Now <<
           Moreover, you can always use them with any lubricant without compromising the toy's efficiency. With this package, you are sure of a memorable anal sex experience. Get yours today, and enjoy the rest of the year in style.
Conclusion
             Nothing makes anal sex more exciting than a toy that stretches every muscle in your anus. The good thing is that your butt is elastic enough to accommodate sex toys of all sizes. More men now prefer backdoor action with toys rather than with a real penis. What could be the secret behind this new trend? Well, we can't think of anything else other than the versatility of sex toys. With a sex toy, you know which spots to hit and how. Some people are still cagey with matters to do with anal sex. However, toys give you the freedom to explore your sexuality limitlessly.
             Apart from pleasuring you, anal toys are also a great way to prepare the anus for penetration. Why is such preparation essential? The reason simple; the tissues in the anus are quite soft and delicate, way soft than vagina tissues. They could easily get damaged if you don't prepare your butt for penetration sufficiently. Most importantly, you should look for anal toys that won't cause any reaction or discomfort. At MoyToys.com, you will find safe products that are non-toxic and phthalate-free. Tour the site today and find yourself massive, elegant sex toys for a breath-taking anal sex experience.